---
---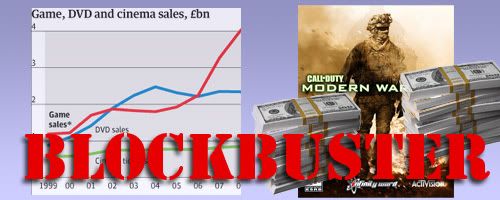 Blockbusters, they exist in movies, in music, in games. They have become part of our society, part of the culture of entertainment. But what does this business model mean for the product itself?
First let us establish what a blockbuster IS. In my blog I will now use the word to describe a high-risk, high-returns venture involving an artistic work. The typical AAA game is a good example. They usually have a big budget, a plot that is suitable to a wide audience, a big marketing campaign and either earn a lot of money or are huge financial failures. Being a blockbuster technically has nothing to do with the quality of the work or the genre, but in the end it affects these two things and much more.
Blockbuster games are big investments, after all hiring those programmers and 3D artists and voice actors is quite costly. And marketing is also very important, to get all players to know about your game, and that costs money too. As expected, when there is a big investment the return needs to be equally big. So such a game NEEDS to sell lots of units and earn a lot of money in order to recoup that budget. When a blockbuster succeeds, it usually gets a lot of money and attention, which is why many people try to make one and many investors agree to put a lot of money on the table. Blockbusters are costly, but when they succeed they bring a lot of money in, and there lies the conundrum.
Blockbusters exist to make a LOT of money. This may seem obvious of most entertainment, but with the case of big productions like these it is not only the purpose, but an absolute necessity. If the work is not a hit, the big budget will not be recovered and the publisher may end up with a major debt. A blockbuster is a gamble; if successful it will return the large investment many times over, but if it fails it could hurt its investors hard.
There are numerous problems with this business model. First, this is a risky gamble so any investors and publishers will try to make the gamble as safe as possible; they will make the blockbuster as safe as they can. This is why so many games involve sequels or franchises and this is why innovation is so feared in this industry, because there is a huge amount of money on stake and adding an unknown element  to the game makes the gamble harder to predict and riskier.
Second, the blockbusters, by their very nature, gather a lot of spotlight. If the amazing special effects/graphics and famous stars/mascots don't grab your attention, the ubiquitous marketing campaign certainly will. And by gathering all the attention blockbusters suffocate most smaller titles and overshadow them. It becomes difficult for works with niche appeal and smaller budgets to compete against blockbusters. So the big titles, with their fear of innovation or alienating any audiences, are more likely to succeed, and to steal the attention, than small titles, which are the best way to try something different.
With a system like that, is it any wonder that it's so hard to find anything original? Of course sometimes blockbusters still manage to innovate, and sometimes smaller titles manage to get enough attention and succeed.  But the system itself works against these things occurring; an original work becoming a hit happens despite circumstances, not because of them.
And another bad thing that the blockbuster system brings is the need for immediate results. This happens because the first week is the most profitable for a new game or movie, and is considered to be a barometer for how the work will do financially. If it goes well, then the work is a success, but if the first week starts poorly then publishers and producers are quick to call it a disaster, sometimes even cutting any further support of the work in question. After all why throw away good money after bad?
This is a trend that only further reinforces safe sequels and big budget titles, since these are the most likely to have big strong sales right at the first week. New IPs and works with niche-appeal almost never manage to reach the figures of their safer brethren, and even if the game is an absolute masterpiece, word-of-mouth and positive reviews work slowly, bringing more and more customers as time goes by. These two methods are excellent for getting a wide audience, but terrible for getting first-week sales which marks these games as disasters even before the game has a chance to prove itself.
It is a harsh market for originality, that's certain.
There ARE good sides to blockbusters though. The large budget allows them to do things in a very professional and high-quality fashion, everything in a typical AAA game or summer blockbuster is polished to a shine precisely because there is so much riding on them. The fact there are people willing to invest huge amounts of money on art/entertainment is something not to be underestimated. It's just a shame blockbusters have trouble coexisting peacefully with their smaller bretheren.
Normally I would say that there is room for both kinds of games, the ones that are polished and have a lot of money behind them as well as the ones that push envelopes and can afford to cater to a more select audience. Unfortunately it doesn't work that way this time, and so I believe that the smaller games and smaller movies need some incentive to be viable.
One good equalizer these days is the internet. Here your work can be distributed and find recognition without a heavy publisher by your side or even a marketing campaign at all. The success of the big games might elude you, but it's still a sustainable business model. The problem with this solution however is the same as the one with the internet in general: too much information. With the sea of entertainment options available online it is very difficult to call attention to your work and sell it, and so many good works still languish in obscurity because they are drowned by the noise of countless other games and movies and information.
Cheaper technology and resources are also increasingly a factor in this, as it allows more small-budget works to still deliver good products, although not to the level of the blockbusters. With free 3D engines, free game engines and free resources popping around lately, it's becoming easier and easier to give your own game or movie a more polished look. It's never easy, of course, but at least the number of people that can participate is growing.
Social games, despite being so reviled in the game industry, may also be on to something there. By giving incentives for those who advertise their game, they can gain a strong marketing with minimal resources. This strategy may seem sleazy and manipulative, but if handled with care it could also be effective, even more so with good games and movies since they could join the effectiveness of word-of-mouth with the power of social media.
These are just a few solutions, and the problem itself is no easy thing. Let me make it clear though that I am NOT against the big budget blockbusters, the big movies and triple-A games. All that I wish for is that the smaller alternatives to become viable and profitable, to give the niche markets and small risky ventures at least a fighting chance against the big companies and their money. To bring about the rule of righteousness in the land so that the strong should not harm the weak, as a very old law once said.
---
---